CCI was awarded a Performance-Based Contract (PBC) for environmental restoration services at the U.S. Army Aviation Center at Ft. Rucker. The scope of services included the design and implementation of a 30-acre former landfill cap (SWMU 2d). CCI developed a Corrective Measures Implementation Plan for the Alabama Department of Environmental Management; submitted the NOR permit; prepared a Construction Best Management Practices Plan for the landfill cover and borrow source.
CCI was contracted for the construction of engineered caps over former phosphorus burial areas. The project was divided into multiple Contractual Areas. By dividing the Contractual areas, CDM was able to manage the logistics to multiple work sites requiring the same fill soil and haul roads. Following site preparation, CCI personnel placed fill to bring the surface to cap elevations; placed a clay barrier layer; placed vegetative soil cover; re-vegetated disturbed areas; performed installation and maintenance of soil and erosion re-vegetated surfaces; and provided surface drainage improvements.
Excavated and hauled 10,218 Tons MGP Contaminated Soil
Transported and Disposed of 20,696 Gallons Contact Water
Imported 10,125.50 Tons Fill Material
CCI excavated 500 tons of petroleum-contaminated soil at a building to the horizontal and vertical limits delineated by the client. The project included loading of contaminated soils, traffic control measures and backfilling to grade, and achieving the specified compaction standards for the site. CCI excavated and loaded approximately 600 tons of soils from an old service station excavation in the general location.
The project involved TPH and PAH contaminants. Several underground utilities were not marked; therefore, personnel performed surgical excavation of underground utilities.
CCI was contracted to remove PCB-contaminated soil that was spread over serveral acres. Contaminated and non contaminated materials were excavated and stored on site at different locations. Contaminated materials originally thought to be no more than 24 inches in depth reached 10 feet or more in some areas.
The contaminated soils were treated with a high temperature soil burner and then stockpiled while crews demolished and decontaminated buildings on site. Unusable materials were transported to an out of state location for proper disposal. Once the site is completely remediated, treated soil along with non toxic soils and topsoil brought in will be spreadby over the entire site, landscaped and made ready for a suitable buyer.
Below are a few before and after photos of our coal stockpile runoff remediation project. This project also included 6 acres of clearing, grubbing, and grinding trees. CCI finished this project 3 weeks ahead of schedule. CCI excavated, transported, and disposed of approximately 7,350 tons of coal, soil, vegetative debris, and trees that were impacted. 6,000 tons of coal was screened and washed for re-use by our client onsite. CCI also jetted and vacuumed out a 300' long CMP full of coal and sludge beneath the facility railroad. The construction of drainage swales and E&SC features were completed by CCI. CCI also matted and hydro seeded on this project.
BEFORE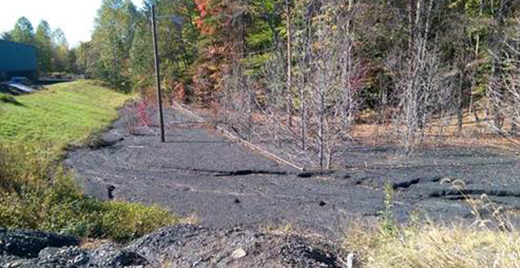 AFTER
BEFORE
AFTER
BEFORE
AFTER